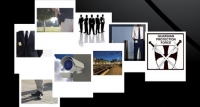 Executive Protection 101 Course V Focuses on The Relationship between Executive Protection and Intelligence for Executive Protection agents, including: A Brief History of Executive Protection, An Overview of Advance Work, Aspects of Executive Protection, What kind of information to gather, Cooperation/Working with other Security Professionals, and Sensitive Information Safeguarding.
The 2019 EP 101 Series contains some of the basics of the executive protection industry. This is an introductory course, which is recommended to both seasoned professionals as well as new EP agents. This knowledge should be expanded upon after completion of this course; however, it is a great beginning and/or refresher for those just starting or currently in the EP field.
This course has been created by security professionals staffed by Guardian Protection Force Inc., through formal education as well as empirical knowledge from working on assignments in the field. This course includes many aspects not covered in any other Executive Protection school and includes classroom and physical training instructions.
Please Note: Although students can register for individual courses, completion certificates will only be given to students who complete the entire series.