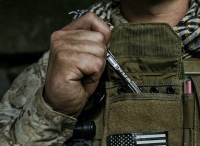 Executive Protection 101 Course VI Focuses on Expedient Weapons: Tactical Flashlight & Pen for Executive Protection agents.
In EP work you may not always have access to a firearm. Your contract may specify an unarmed detail, or you may be operating outside your own state or country and not be allowed to have one with you. Two items any EP agent should always have on hand, however, are a small powerful flashlight and a good pen. Old Japanese martial arts feature the use of many small-weapons techniques transferable across a broad range of tools in this size/shape range, and they will form the basis of this class.
The 2019 EP 101 Series contains some of the basics of the executive protection industry. This is an introductory course, which is recommended to both seasoned professionals as well as new EP agents. This knowledge should be expanded upon after completion of this course; however, it is a great beginning and/or refresher for those just starting or currently in the EP field.
 This course has been created by security professionals staffed by Guardian Protection Force Inc., through formal education as well as empirical knowledge from working on assignments in the field. This course includes many aspects not covered in any other Executive Protection school and includes classroom and physical training instructions.
Please Note: Although students can register for individual courses, completion certificates will only be given to students who complete the entire series.
Instructor: Dale Seago
Dale Seago is teaching the Handgun Disarming & Retention and Expedient Weapons classes. He is both formally "school trained" in Executive and Dignitary Protection and experienced in this field, having participated in operations up to and including Presidential level. He also is a Dai Shihan or "senior master level" instructor in the martial arts of the Bujinkan training organization headquartered in Chiba Prefecture, Japan. A more comprehensive overview of Mr. Seago's background may be viewed here.