Post-Traumatic Stress Disorder & Your Security
Monday, 27 June 2022
P . T . S . D   &   Y O U R   S E C U R I T Y
Post-Traumatic Stress Disorder (PTSD) is sadly more common these days with over 44.7 million people in the U.S who suffer from it. Initially associated with veterans who were in combat, PTSD is now known to occur in all humans who have survived a traumatic event. These numbers mean that you will encounter someone struggling with PTSD from time to time; an employee, a client, a member of the public, an unhoused person ... and even possibly your hired security officer.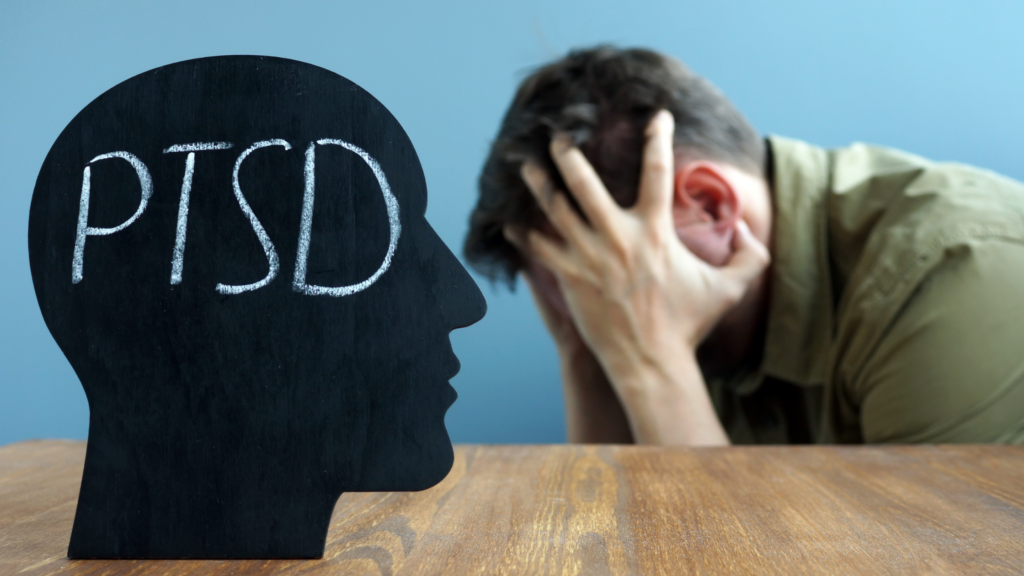 Photo Credit: PTSD in the Workplace 
For this reason, it is important for you to learn how to identify, manage and associate with those who have PTSD. It cannot be helped that many in this world have viewed those with PTSD as odd or unsociable. This is an unfortunate stigma and, at times, an unfair one.
While most tend to tolerate those who suffer from PTSD while serving in the military, less acceptance is given to people who survived car accident, domestic abuse or even rape victims. All, however, deserve the same level of respect and support.
Ridicule and ignorance
is the real enemy of these victims.
The effects of post-traumatic stress disorder have been documented for thousands of years with early accounts dating back to 2100 B.C. However, it wasn't until the mid-1800s, early 1900 that it was given a common name.
Initially called shell shock (because of incoming artillery shells) or soldier's heart, early treatment was rudimentary at best and often nonexistent.
In the early 19th century and through World War II psychoanalysis were fascinated by extreme cases and chose to study the bizarre behavior. Such behavior was not only triggered by war. Survivors of the Titanic or the Hindenburg disasters were observed to have PTSD symptoms.
Unfortunately,
most everyone else
preferred to
sweep it under the rug
and hope for the best.
Sadly, there were those that did not understand PTSD and mistook symptoms for cowardice or weakness of the mind.
During WW2 General George S Paton, Commander of the 3rd army, slapped a soldier at an aid station in Sicily. It was a slap, "that was heard round the world and unintentionally put a soft spotlight on PTSD itself." In those days there was something of an unspoken rule about those who have seen combat:
Leave them be, and they will sort it out by themselves.
This turned out to be the worst type of mentality to have. With few programs available outside the church, many service men and women had to coop with their feelings as best they could. At the time, many doctors and specialists believed that the mental trauma would be short lived and that any symptoms lasting over six months were not combat related. It wasn't until decades later that the world began to seriously take notice of the people affected by war and other disasters.
Symptoms of PTSD can vary from person to person but usually involve frequent fear, stress, anxiety, self-seclusion and reliving events through flashbacks, or nightmares.
They may also experience intensely unpleasant thoughts or feelings, and if not treated can harm themselves or others. It is because of this that many chose to avoid those with PTSD but again this is an unfair stigma. Many who have post-traumatic stress disorder try to rebuild their lives through therapy, medication, or self-healing with friends and family.
But what triggers PTSD?
Well -- anything, really.
It could be a sound (loud or soft), a smell, a touch or even a taste. But the most common sense is sight. This boils down to how our brains work. The human brain, traumatized or not, cannot tell the difference between what it thinks and what it sees.
Example: It's possible you, as a child, were once afraid of monsters under your bed or somewhere in your house. Your heart raced, you were on high alert, and fear gripped you so tight you could barely breathe. As an adult you may look back and laugh at the concept of the boogeyman, however, back then it was no joke.
Even as adults, we sometimes become anxious by things we perceive to be there but aren't.
Social media has shown us many relatable videos of people rushing to turn off all the light switches in their house while an "imaginary" figure dressed in black gave chase only to be foiled when the person reached the safety of their bed.
While the person may have mild symptoms, like an elevated heart rate, and can work through it; others may need more time to calm down. Again, anything can set off a person's PTSD and it is essential that they are given time and space to readjust. That said, you should always take steps to ensure your own personal protection if things become too extreme to handle on your own.
What you can do to help?  As previously stated, those with PTSD may withdraw from social venues or family activities. According to Helpguide.org this may be due to feelings of embarrassment or not wanting to be a burden to others. However, the way you behave around them is more important than the way they behave around you. Do what you can to create a sense of normalcy when interacting with them. Staying calm and being a good listener is a great way bridge the social divide. While they may feel like you don't understand their suffering, it can be a good opportunity to find out what triggers them. After that try to minimize their contact with things that may trigger their PTSD. For example, if one of your employees is quick to anger, they should not be dealing with belligerent customers. It should be pointed out that not all people who suffer from PTSD are uncontrollable, rage monsters, in fact many live peaceful lives and go about their day with little to no disruptions. That said, make sure to always put safety first during times of volatility. Stay calm and suggest a break or a change of scenery. If the person's anger or rage persists despite your efforts to calm them down, leave the area and find a safe space where they cannot enter then contact the necessary authorities to handle the situation.
In conclusion, sometimes knowledge and support can be the best medicine. While reading this blog is a great first start, it is up to all of us to do our own research on PTSD.
"Having PTSD doesn't mean you're broken.
It merely means you were put to the test and
didn't fall apart."
– Unknown
Helpful Resources: 
https://www.psychiatry.org/patients-families/ptsd/what-is-ptsd
https://www.workplacementalhealth.org/Mental-Health-Topics/Posttraumatic-Stress-Disorder
https://374318-1171779-raikfcquaxqncofqfm.stackpathdns.com/wp-content/uploads/2020/11/PTSD-workplace-1024x576.png
Last modified
Monday, 27 June 2022