National Cannabis Awareness
Wednesday, 20 April 2022
Oh how times have changed, am I right?
While the politics and taboos
of marijuana remain up in the air
there is one thing that is factual:
Cannabis dispensaries and cultivation centers are high targets for theft and armed robbery.
Things are made even more complicated as federal law still recognizes marijuana and its products as schedule one, or strictly illegal substances. As such, no bank or credit union will have any direct affiliation with the cannabis industry.
This means the industry is forced to use CASH and lots of it.
To be clear banks will not give dispensaries loans or any type of credit, but they aren't above taking cash. However, this puts a very substantial risk on business owners who are left to solve a very important question. How do you transport money and goods securely? Now I know what you might be asking. Why not just hire an armored truck to transport the cash and products? Well it is not very clear as to why not, but it can be speculated that well known armored truck companies like GARDA cannot risk federal contracts by transporting illegal substances.
On top of this many cannabis dispensary owners might find it too expensive to hire a company like GARDA or they would want to stress covertness.
For these reasons it is understandable that cannabis companies would hire private security to accompany drivers while making deliveries.
Unfortunately, not all marijuana businesses
chose to utilize armed security services, and the results can sometimes be disastrous.
Around the country there have been reports of transport trucks and vans being hijacked while on route. On January 15th and 28th of 2021, a marijuana delivery van was stolen at gunpoint in Pasadena, California. Four suspects were arrested a month later, but the money and merchandise were never recovered. Sadly, this is not an isolated incident (news articles links below). As the cannabis industry grows in the U.S delivery vans become more of a prime target for people who want a quick and sometimes easy payday.  
The security regarding transportation of money and products is one aspect of this, but the overall focus is protecting the cultivation centers and the dispensaries.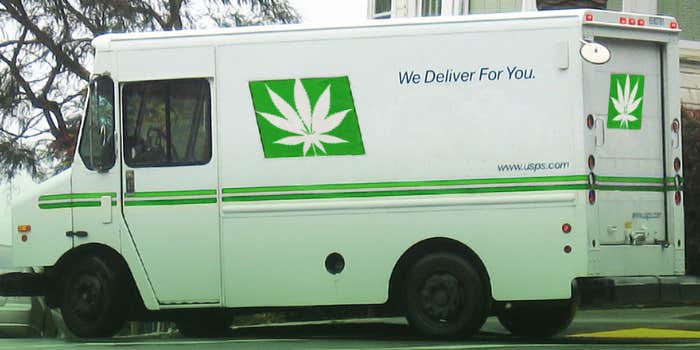 Photo Credit: https://www.dailydot.com/business/colorado-mail-weed-legal/
It's no secret that at any given time a cultivation site may house thousands of dollars in products. This is where private security services really has been invaluable. Weed dispensaries usually spares no expense to ensure the safety of their staff and merchandise. They also go to great lengths to secure their facilities. This includes multiple armed security officers, metal detectors, ID scanners, secure waiting rooms, bullet proof glass, and a lot of security cameras.
Cannabis awareness in America is on the rise.
By following very restrictive laws passed by the states and taking every step possible to ensure that a safe work environment the cannabis industry looks a little more like Elon Musk and less like El Chapo.
https://www.dailynews.com/2021/02/27/4-arrested-in-carjackings-of-pot-delivery-vans-in-pasadena/
https://timesofsandiego.com/crime/2018/06/26/marijuana-deliveryman-carjacked-in-emerald-hills/
Last modified
Wednesday, 30 November 2022