Protective Tactics
Monday, 13 March 2017
Self-Defense and Protective Tactics Workshops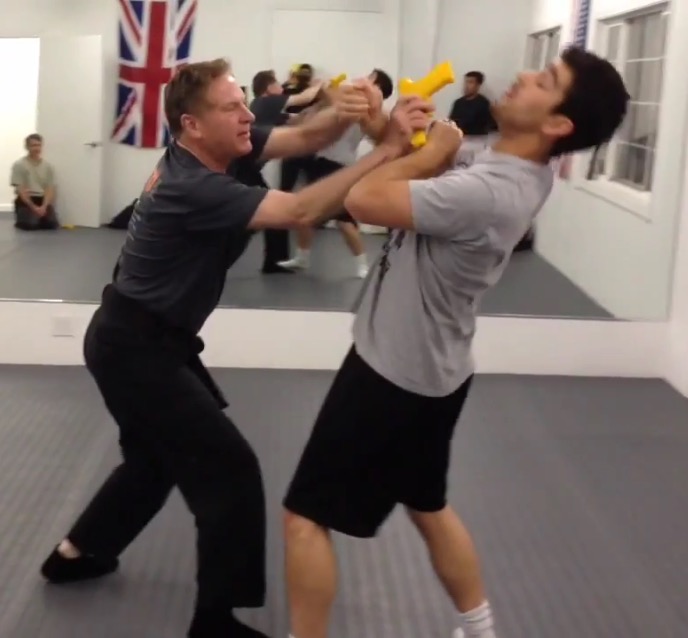 Guardian Protection Force Inc., is pleased to announce the introduction of a special series of monthly self-defense and protective tactics workshops commencing in mid-April, 2017.
These workshops are oriented toward, but not restricted to, people in protective service, including;
Security personnel working in executive protection or dealing with things like contentious employment terminations;

Law enforcement,

Military personnel, etc.
Previous experience in martial arts or defensive tactics is not necessary for participation.
Security personnel licensed by the state of California may find these useful as elective training applied toward the continuing training requirements for their guard card.
These workshops are taught by Dale Seago, a military (Marine Corps and Army) veteran and longtime security professional with over four decades of martial arts training and teaching experience.
His instructional approach is not one of just teaching techniques; rather it presents those within a framework combining appropriate tactics, ethics, and legal considerations.
A comprehensive overview of Mr. Seago's background can be found here.
[Workshops Overview]
Cost: $45.00/Class 
OR $248.40 For All Six Classes (Save 8%!!!)* 
Interested? Click Here! 
Course Calendar: 
Handgun Disarming & Retention  
04/15/2017 @10AM- 2PM
Career criminals and terrorists commonly train in weapon-disarming methods, so it is important to understand how they work and what you may be able to do to thwart them. This workshop focuses on disarms – and on countering disarming attempts – with the firearm in a "presented" or drawn position. It begins with disarming methods, in case you are ever in a situation where you need to disarm a threat, and also so you will better understand the danger you may still face even though you may have already drawn your own weapon. From there the focus shifts to retention methods or counters. The methods presented are adapted for non-martial artists from centuries-old techniques of muto dori and shinken shiraha dori, methods used when one is unarmed versus a swordsman.
Tactical Flashlight
05/20/2017 @10AM- 2PM
This workshop is for use of a small tactical flashlight along the line of – as just one example – the rechargeable model UC35 from Fenix. Such a light, at an intensity around 1000 lumens, is actually a dual weapon: It incorporates the feudal-era martial art concept of metsubushi (literally "sight remover") creating a distraction to allow you either to escape or to more safely close and engage a threat, and is also ideal for application of traditional Japanese short-stick techniques used for striking, pressure point manipulation, grappling, and throwing.
Walking Stick/Cane/Riot Baton
06/17/2017 @10AM- 2PM
Carrying a baton without the proper license from the Bureau of Security and Investigative Services is asking for a jail term. And if you ARE carrying one, in a security or law enforcement capacity, the typical P.O.S.T. training methods are simplistic and do not come anywhere close to the actual capabilities of such a defensive tool. Turning again to the feudal-era Japanese arts incorporated into the Bujinkan, the highly weapons-centric battlefield art of Kukishinden ryu includes use of a roughly 3-foot staff or stick called a hanbo (literally "half-staff"). The methods used in hanbojutsu include strikes, grappling/joint locks, chokes, and throws. The length is about that of a police riot baton or a walking stick/cane, and the latter– with an appropriate rubber tip – can legally be carried anywhere, even aboard an airplane without question or justification because it is considered a medical device.
Handgun Retention (Holstered)
07/15/2017 @10AM- 2PM
This workshop is more suitable for military, law enforcement, or armed private security personnel carrying the handgun in an exposed duty holster. Nowadays people in such situations typically use holsters with retention features built into the holsters themselves to keep a threat from just snatching one's firearm out of the holster.  This is great as far as it goes, but is not enough by itself: You still need to be able to survive and get to a position which will allow you to access and use your weapon while keeping the threat out of position to do so. The methods in this workshop are adapted for non-martial artists from centuries-old daisho-sabaki techniques, essentially jujutsu methods used when one or both samurai combatants are wearing one or both swords and trying to access them while keeping the opponent from doing so.
The Keychain in Self Defense
08/12/2017 @10AM- 2PM
A feudal-era Japanese flexible chain weapon called variously (depending on the system using it) a kusarifundo or a manrikigusari can be used for striking, choking, joint locks, and throws. Unfortunately, because it has a weight on each end that can be used as a small handle, the statutory language of the California Penal Code may also cause this Japanese weapon to be a traditional Okinawan weapon called a nunchaku which is a felony to possess:

"16940. As used in this part, nunchaku means an instrument consisting of two or more sticks, clubs, bars, or rods to be used as handles, connected by a rope, cord, wire, or chain, in the design of a weapon used in connection with the practice of a system of self-defense such as karate."
However, a 20-24 inch dog's choke collar chain with a snap-ring and a few keys on each end has no "sticks, clubs, bars, or rods". Just saying.
Folding Knife
09/23/2017 @10AM- 2PM
Under the law, a knife is considered "deadly force" in exactly the same way as a firearm and can only be used to prevent imminent and otherwise unavoidable grave bodily injury or death to yourself or someone you may need to protect. That said, however, there could be a time when a "pocket knife" is all you have available to neutralize a deadly threat. There also are both technical and tactical considerations unique to shorter-bladed knives and how to use them to best effect, and those will be addressed. Methods shown are drawn from traditional Japanese blade methods used against opponents wearing battle armor, and are equally effective against unarmored threats.
*Non-Refundable one time payment for all six courses due up front, prior to start of 1st class. 
Trouble with the interested link? Cope this URL: 
http://www.gpfsecuritycorp.com/services-wanted
Trouble with the link to Mr. Seago's Background? Copy this URL: 
http://www.gpfsecuritycorp.com/blog/item/58-dale-seago-background
Last modified
Monday, 13 March 2017