Our Employee Rewards Tickets Program
Thursday, 27 January 2022
In celebration of National "Plan a Vacation Day", 
we would like to reflect on the GPF Security Officers 
we have sent on vacation through our
"Rewards Ticket" employee incentive program! 
Now if you are not familiar, you may be asking: what are rewards tickets? In 2016 GPF implemented a new way to display employee appreciation and the Rewards Ticket Program was born.
The concept is very simple:
GPF Security Officers will receive a
certain number of tickets
for going above and beyond
while working on site
as Security Professionals,
for picking up extra shifts,
for participating in the
mandatory security officer training,
or for raising overall morale or efficiency at GPF.
The number of tickets given to an individual varies, depending on the situation, but they range from 5-100 tickets.
The rewards program has two main purposes: (1) to reward employees for good work on and off site and (2) to encourage employee retention. Usually, there are two events where rewards tickets can be used, the security staff appreciation celebration and the annual holiday party. However, on occasion we sprinkle in other employee raffles to celebrate our security professionals throughout the year! 
The security staff appreciation celebration is a party to acknowledge our security officers and team for all the hard work they have done in the past year. The event usually comprises food, drinks, games, and other fun activities often based on a theme. We also try to include those that are off duty but cannot participate physically, allowing them to join virtually.
The winning tickets are picked from our coveted "Security Officer Rewards Ticket" jar. Traditionally, when COVID doesn't interrupt in person events tickets can be divided among multiple gifts or dumped into one.
It is Guardian tradition at the annual holiday party,
after all the gifts have been drawn by the Security Officers,
the grand prize is drawn.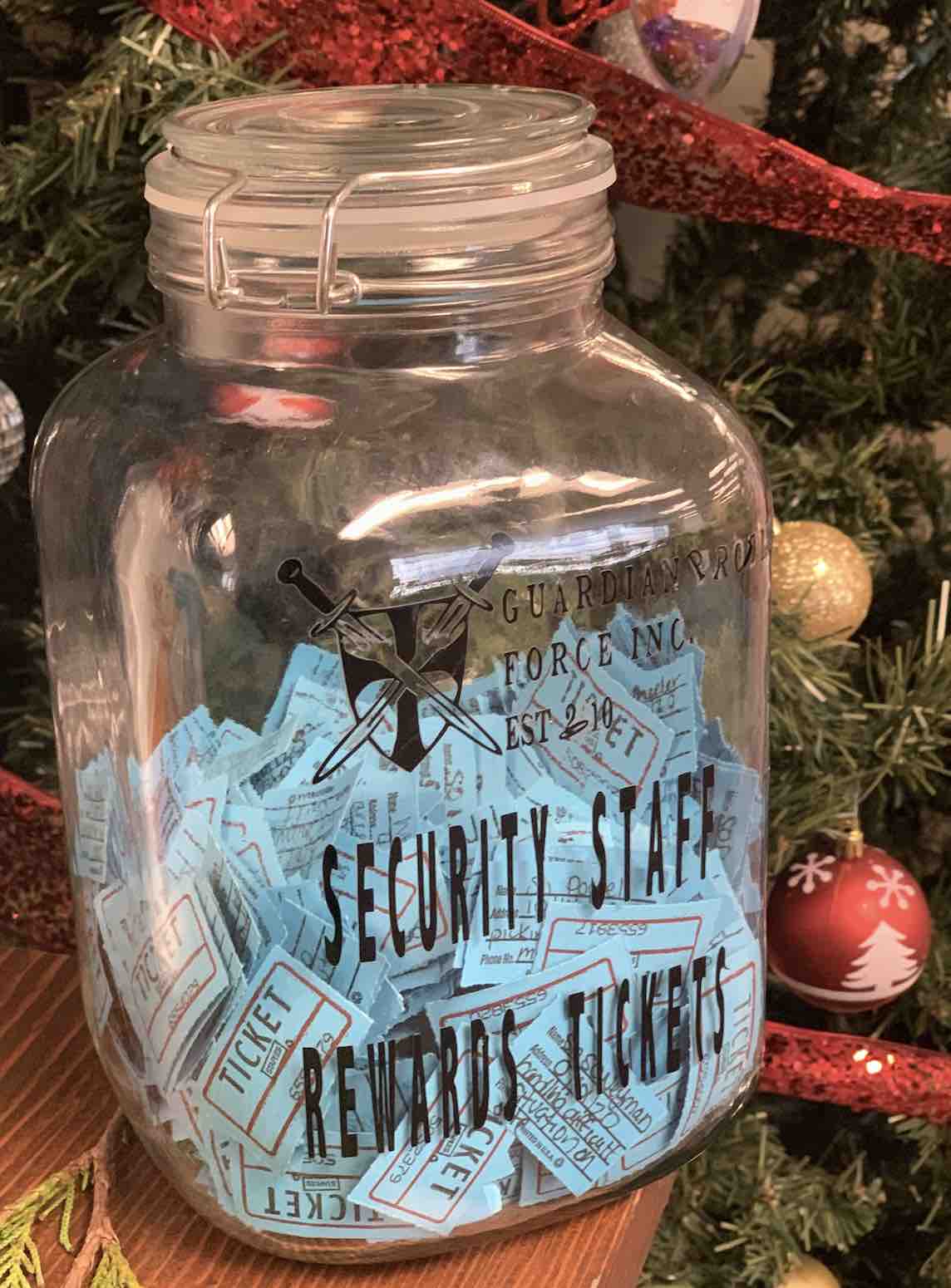 What the grand prize is, is announced during the staff appreciation celebration which usually takes place a few months prior. After the games are played and the last gift is raffled off the evening comes to a close with the grand prize! 
While it is not always a vacation to somewhere, GPF would like to believe that we've given our security officers an opportunity to explore the world past Sacramento! 
Here's a list of the Grand Prizes
GPF Security Officers 
Have Won Over the Years: 
2016 - 7 Days Condo in Olympic Village (Sn SO A. Yefremenkov) 
2017 - Cruise to Mexico for 2 (Sn SO M. Hill) 
2018 - Beach Front Stay in San Diego (Sn SO P. Gonzales) 
2019 - $1,000 Cash (SO J. Wheeler) 
2020 - 75" Flat Screen (Sn SO S. Singh) 
2021 - Cruise to Mexico for 2 (SO Zhou * RCI)
Congratulations to all our Security Professional's
who have won the grand prizes over the years! 
So, what trip are YOU planning on National Plan a Vacation Day?
"A journey of a thousand miles begins with a single step." Lao Tzu
Last modified
Thursday, 27 January 2022